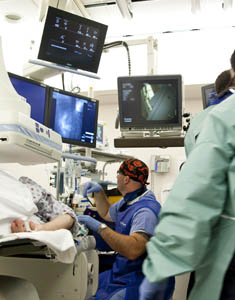 Anesthesiology residents at the CA-2 (PGY3) level are assigned to a one-month rotation that focuses on the provision of anesthesia at hospital locations outside of the operating room, eg. MRI, endoscopy, angiography. Upon completion of the Remote Site Anesthesia rotation, the anesthesiology resident will be able to:
Evaluate patients for remote site anesthesia procedures and determine if they are appropriate candidates to undergo anesthesia at that location.
Evaluate remote site locations to determine if they possess the resources and equipment necessary to provide safe anesthesia care.
Provide anesthesia care to adult and pediatric patients at a variety of remote site locations.