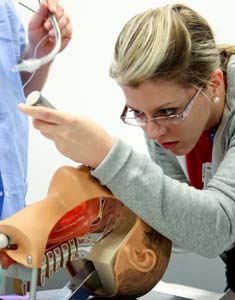 As one of the first departments in the country with a dedicated airway management rotation, our residents report graduating with confidence to face difficult airway management situations.  During the month, residents have the opportunity to train on the Air Man patient simulator.  This allows the scenarios of the difficult airway algorithm to be explored in a relaxed educational setting.  Typically residents obtain more than sixty fiberoptic intubations during this rotation. We also provide training in use of Bullard laryngoscopes, light wand and other rigid intubating devices.  Experience with airway exchange catheters, intubating stylets and fiberotpic intuabtion through laryngeal mask airways is provided.  
During your month there are a number of experiences in the intensive care and trauma settings which increases your skill in airway management.
These experiences are often directed by a group of four faculty with advanced training in airway management, however all faculty bring expertise to this rotation. Semiannually there is an advanced airway management workshop which is sponsored by the department - not only for the education benefit of our residents, but for the University and VA Hospitals at-large. Additionally, there is an Advanced Airway Management Research group which actively publishes.  Since the establishment of this rotation, residents report entering the practice setting of their choice with greater confidence as they encounter patients with difficult airways.