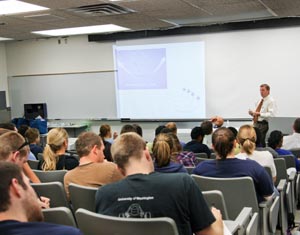 Our educational program for anesthesiology residency training encompasses many different educational modalities as we prepare you to become board-certified in anesthesiology. It includes supervised patient care, formal conferences, board prep (OSCEs, Orals, and Basic/Advanced), and simulation. Details of training requirements of the American Board of Anesthesiology (ABA) may be found in the ABA Booklet of Information, which is provided for each resident or on their web site at http://www.theaba.org/ABOUT/Policies-BOI.
Your first month of anesthesia training is designed to prepare you to provide care to the healthy adult patient and to expose you to more specialized types of patients and techniques. The course includes time in the operating room, training in the human patient simulator, twice-daily didactic conferences, and the Anesthesia Knowledge Test at the beginning and end of the month. Basics of Anesthesia is used as the primary reference text this month. You will be supervised one-on-one by an attending anesthesiologist, or will be paired with another resident throughout the entire first month.
At the beginning of your first month, you will be provided with a set of books that have been pre-selected by the program director, as well as an iPad mini, the Point of Care Ultrasound probe trainers and software, and a department fleece with your name embroidered.