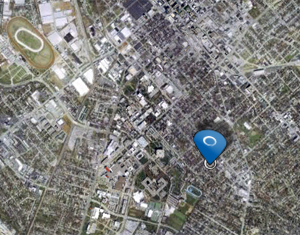 Lexington has a long and important history. Located in the heart of the Bluegrass the city and its citizens have been involved in world affairs politically, economically, and culturally. The history of Lexington dates back more than two centuries and the founding of the town is congruent with the founding of the nation. In 1775 William McConnell and his fellow frontiersman were camped on the outskirts of the current city at what has since become known as McConnell Springs.
While encamped at this location the pioneers received word of the "shots heard round the world" and the first battle of the American Revolutionary War at Lexington, Massachusetts. They then named the settlement in honor of this monumental event.
Lexington soon became one of the first permanent settlements on the frontier. The town consisted of nothing more than a stockade with the citizens' cabins within the walls. The frontier, at this time, remained a dangerous place and early settlers clashed with the indigenous American Indians.
At the time Kentucky was not yet a state but territory within the Commonwealth of Virginia. In 1780 the Virginia General Assembly divided Kentucky County into three separate entities including Fayette, Lincoln, and Jefferson counties. Lexington was deemed the "capital" of Fayette County. In April 1782 the town inhabitants officially petitioned the Virginia General Assembly to become a town. At this point Lexington was transformed from the rough, wild settlement of years past into the community that would soon become known as "the Athens of the West."
Source: National Park Service, 2010