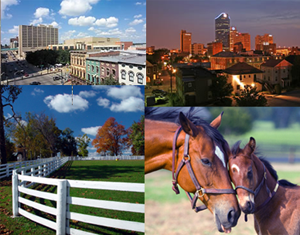 Visitors and newcomers arriving into Lexingtons Blue Grass Airport immediately get a taste of Lexingtons signature features, including its gently rolling countryside lined by white, wooden fences, which are home to some of the worlds greatest and most well known Thoroughbred horses. While the city is billed as The Horse Capital of the World and boasts the likes of Keeneland Race Course, The Red Mile, and numerous horse farms, it is also known for a diverse economy, a strong workforce, a quality education system, great healthcare, a wide range of higher education options, and of course" big-time college basketball.
WELCOME TO THE BLUEGRASS STATE! 
FACTS ABOUT LEXINGTON:
Lexington is less than 175 miles from 5 major cities (Cincinnati, Louisville, Nashville, Knoxville, and Indianapolis).
Lexington is the horse capital of the world.
Lexington has over 3,000 acres of parks.
35.6% of Lexingtons workforce has a bachelor's degree or higher.
Lexington's unemployment rate is typically lower than the rest of the state and nation.
Lexington has over 550 restaurants.
Lexington really is a great place to live and work! Here are some statistics to show Lexington really lives up to its reputation

A list of Lexington's recent accomplishments:
2013
#7 Best Midsize Cities for Jobs - Forbes
#7 Best Places to Retire - Forbes
2012
100Â Best Communities for Young People, America's Promise Alliance
#4Â Lowest International Business Location Costs in the U.S. Northwest/Canada region, KPMG LLP
#16 Best Small Metro Area College Destinations - American Institute for Economic Research
#25 America's 50 Best Cities - BusinessWeek
2011
#9 Best Places for Retirement, Forbes
#1 Top 10 Mid-Sized Counties, Fourth Economy
100 Best Communities for Young People, America's Promise Alliance
#25 America's 50 Best Cities - BusinessWeek
#6 Best Value City - Kiplinger
#4 Best Place for Business and Careers - Forbes
#6 Best City for College Graduates - The Daily Beast
Top Ten Cities of The Future - FDi Intelligence
#1 The Best Cities for Finding a Job - Forbes
2010
#2 The Best Cities for Education - Parenting Magazine
#3 Best Places to Retire - CNNMoney
#5 The Best Cities for Families - Parenting Magazine
#5 The Best Markets for Single Family Home Investment - Wall Street Journal
#5 Top Medium Sized US Cities for Entrepreneurs - Grasshopper Group
#5 Best Real Estate Market Buy - MSN Real Estate
#6 Top Metros - Low Cost Manufacturing Centers - Business Facilities
#7 Percent of pop. over age 25 with an Advanced degree among cities over 250,000 - US Census 2009 ACS
#7 Best Cities In Terms of Business Costs - KPMG Competitive Alternatives
#7 Top 10 Metros - Quality of Life - Business Facilities
#8 2010 Best-Performing Cities: Biggest Gainers - Milken Institute
#8 The Best Large Cities to Bank In - gobankingrates.com
#9 The Best Places For Business And Careers - Forbes
#13 Percent of pop. over age 25 with at least a Bachelor's degree among cities over 250,000 - US Census 2009 ACS
#14 Best Mid-Sized Cities for Job Growth - New Geography
#41 Bike-Friendly Cities - Bicycle Magazine
Editors' Location Pick - Business Facilities
Top 10 College Towns - Relocate America
100 Best Communities For Young People - Americas Promise Alliance
2009
#5 College Sports Towns - Forbes
#6 Best Mid Size Metro to Launch a Business - CNNMoney
#6 Best Place to Raise a Family - Children's Health
#8 Best Cities - Quality of Life For Women - Womens Health
#9 America's Best Affordable Places to Retire - BusinessWeek
#10 Percent of pop. over age 25 with an Advanced degree among cities over 250,000 - US Census 2008 ACS
#10 Best Cities - Quality of Life For Men - Mens Health
#13 Top Hotspots for Young, Talented Workers; Midsize Magnets - NextCities
#13 Percent of pop. over age 25 with at least a Bachelor's degree among cities over 250,000 - US Census 2008 ACS
Best Place in Kentucky To Raise Your Kids - BusinessWeek
Top 10 Best Places to Live - Relocate America
Best Places to Live the Simple Life - AARP Magazine
2008
#2 Most Educated Workforce - Business Facilities
#2 Best Cities For Relocating Families - Worldwide ERC & Primacy Relocation
#5 Best Places For Business and Careers - Forbes
#7 Best Cities In Terms of Business Costs - KPMG Competitive Alternatives
#13 Best Cities For Riding Out A Recession - BusinessWeek
#14
#25 Americas Greenest Cities - Popular Science
100 Best Communities For Young People - Americas Promise Alliance
A Top 5 Best Buy For Recent College Grads And Young Professionals - Whos Your City by Richard Florida
Best Metros To Test New Products - Places Rated